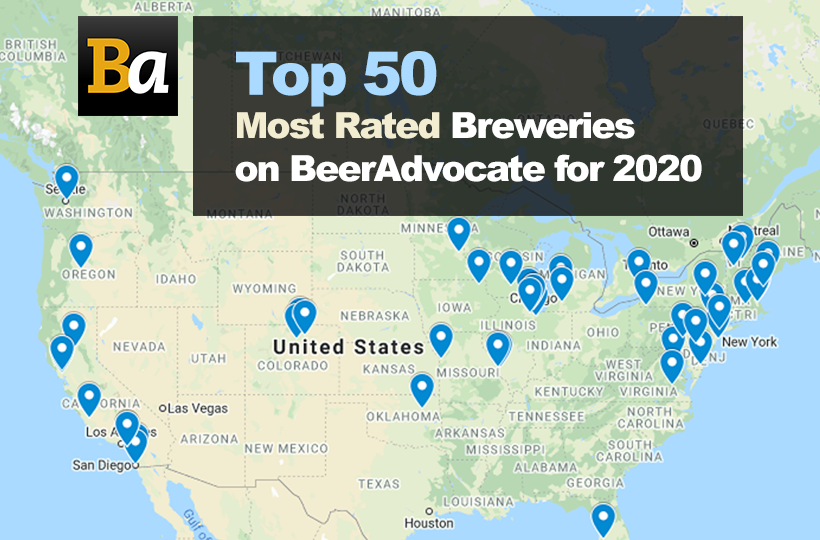 Top 50 Most Rated Breweries on BeerAdvocate for 2020
May 10, 2021
In the past, we've published best and top rated brewery lists in BeerAdvocate magazine and online, but this one is loosely inspired by the Brewers Association's Top 50 U.S. Breweries by Sales Volume for 2020.
The focus of this inaugural list is the most rated breweries, not the highest rated or best breweries of the world based on their beers. It's simply a ranking of breweries by total number of ratings, that's not restricted to the United States or whatever your definition of "craft beer" currently is, and all ratings posted on BeerAdvocate in 2020 were considered.
I'm not going to group breweries by ownership, but I'll note all of that below. I've also included the brewery's rank from 2019 for comparison and "new" simply denotes that the brewery is new to the top 50 for 2020.
Top 50 Most Rated Breweries on BeerAdvocate for 2020
Tree House Brewing Co., Charlton, MA | 1
Other Half Brewing Co., Brooklyn, NY | 2
Founders Brewing Co., Grand Rapids, MI | 4
Sierra Nevada Brewing Co., Chico, CA | 5
Trillium Brewing Co., Boston, MA | 3
Bell's Brewery, Kalamazoo, MI | 6
Toppling Goliath Brewing Co., Decorah, IA | 7
Stone Brewing, Escondido, CA | 10
Goose Island Beer Co., Chicago, IL | 12
New Belgium Brewing Co., Fort Collins, CO | 14
Prairie Artisan Ales, Tulsa, OK | 15
Firestone Walker Brewing Co., Paso Robles, CA | 8
Dogfish Head Craft Brewery, Milton, DE | 11
Cigar City Brewing, Tampa, FL | 16
Hill Farmstead Brewery, Greensboro Bend, VT | 9
Modern Times Beer, San Diego, CA | 17
Equilibrium Brewery, Middletown, NY | new
3 Floyds Brewing Co., Munster, IN | 20
Lagunitas Brewing Co., Petaluma, CA | 13
The Bruery, Placentia, CA | 18
Aslin Beer Co., Herndon, VA | 32
Boulevard Brewing Co., Kansas City, MO | 29
Oskar Blues Grill & Brew, Lyons, CO | 22
Deschutes Brewery, Bend, OR | 21
Surly Brewing Co., Brooklyn Center, MN | 34
Phase Three Brewing, Lake Zurich, IL | new
Anchorage Brewing Co., Anchorage, AK | new
Anheuser-Busch, Saint Louis, MO | 27
Bottle Logic Brewing, Anaheim, CA | 31
Fremont Brewing Co., Seattle, WA | 44
Lawson's Finest Liquids, Waitsfield, VT | 26
Pipeworks Brewing Co., Chicago, IL | 24
Collective Arts Brewing, Hamilton, Ontario, Canada | 40
Boston Beer Co., Jamaica Plain, MA | 25
Tröegs Brewing Co., Hershey, PA | 43
Russian River Brewing Co., Santa Rosa, CA | 46
Revolution Brewing, Chicago, IL | 36
Southern Tier Brewing Co., Lakewood, NY | 30
Allagash Brewing Co., Portland, ME | 41
Clown Shoes, Boston, MA | 49
Brewery Ommegang, Cooperstown, NY | 37
WeldWerks Brewing Co., Greeley, CO | 50
Side Project Brewing, Maplewood, MO | 38
Untitled Art, Waunakee, WI | new
Kane Brewing Co., Ocean, NJ | new
Tired Hands Brewing Co., Ardmore, PA | 28
Victory Brewing Co., Downingtown, PA | 45
Hop Butcher For The World, Darien, IL | 48
SingleCut Beersmiths, Queens, NY | 19
The Veil Brewing Co., Richmond, VA | 33