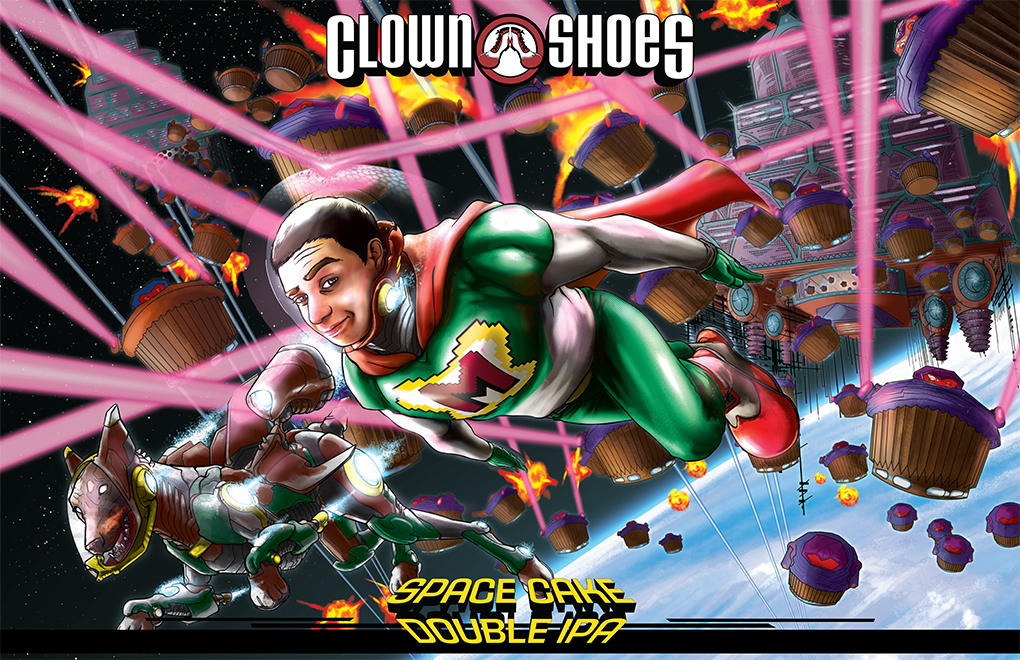 "Cupcakes Shooting Laser Beams" – The Story of Space Cake
October 18, 2019
In the Spring of 2014, Clown Shoes Beer was ready for a new direction. They had a steady stable of core products supplemented with limited edition releases and a well-regarded barrel-aging program. Contract brewing out of Mercury Brewing Co. in Ipswich, MA, Clown Shoes had steadily grown off successful launches like Hoppy Feet, Clementine, Undead Party Crasher, and others. However, the time had come to step into a genre of beer heretofore left alone, IPAs. This is the story of Space Cake, the culmination of experimentation, hop scarcity, and inspiration that led to the Double IPA that changed Clown Shoes Beer.
Gregg Berman (Founder): I'm a contrarian. I had this idea to never make an IPA. And have a brand that could grow and live without ever making an IPA.
Dan Lipke (Head Brewer): We didn't do straight up IPAs. First was Hoppy Feet, a Black IPA, but something different. At the time that was extremely hoppy. And we did Eagle Claw Fist, which was basically a Red IPA. But old school. Nothing close to what people think of today, or even back then, when it came to a straight up IPA.
Gregg: Customers, though, kept asking: "When are you going to have an IPA?" Stores, same thing. Dan Lipke kept asking. Everybody else kept asking: "Why aren't you going to have an IPA?"
Dan: We did do a lot of hopped up beers…a dry-hopped Wit Bier, a dry-hopped Brown Ale, a Russian Imperial Stout dry-hopped, but just a straight up IPA it took a while to evolve into. For a while we had Belgian IPAs before we did an American IPA.
Gregg: So reluctantly I came to the conclusion that we had to try it. I started to try them, and I had to warm up to hops as a dominant flavor. After a while I had tried dozens and gotten comfortable with the flavors. That's when I started to understand how much we could do with these.
Sean Geary (Brand Manager): We had Supa Hero, and Miracle (another IPA), but those were more geared towards being a lower ABV IPA. Supa Hero turned into Galactica, and that was more of a super bitter, West Coast-style.
Dan: In terms of a straight IPA it wasn't until we did Supa Hero, which became Galactica, that was kind of the first Double IPA. That was probably a good five years in.
Gregg: Space Cake came after that and really signified the beginning of us doing more with this style.
Supa Hero/Galactica's success, and Dan's work on a variety of other limited release and piloted hop-forward beers, inspired the Clown Shoes team to develop another Double IPA with a different flavor profile to go alongside Galactica in the lineup.
Dan: With Space Cake we were looking to do something much lighter and "new style."  Lower bitterness, no caramel malt.
Gregg: It was a stretch, I was always asking for less malty, more west coast in our IPAs.
Sean: The whole world was focused on super bitter IPAs. Gregg and Dan wanted to do something different. The sweeter side of an IPA hadn't been done yet, at least we didn't do it, and it wasn't popular in our area.
Dan: We were looking for a lighter body, but those juicier hop flavors that were in newer IPAs. Not really New England IPAs yet, but beers like Heady Topper were starting to influence those citrus, juicy hop flavors appearing more.
Dan set to work formulating a recipe for another Double IPA for the Clown Shoes portfolio, one that would further accentuate hop forward flavors of the West Coast style and dial back some of the heavier malt notes of Galactica. While the hop bill of Galactica had proved successful, and seemed an obvious road map for a successor, there was an issue: getting enough hops.
Gregg: I wanted Citra and Galaxy. Those were the really hot hops at the time and we were going to build a beer around those and we couldn't get enough. Galactica was built around Galaxy, which was a pain in the ass to get.
Dan: We had contracts for Simcoe, Citra, Galaxy, and Amarillo hops, which was enough for our monthly brew of Galactica. But we knew we didn't have the ability to bring in enough of those same hops or some others.
I got a sample of Mosaic from our hop vendor, and Seth Barnum (at the time a brewer at Ipswich, now brewer at True North) brewed an IPA with it on our homebrew system. A couple weeks later, I had one sip of Seth's homebrew and ordered 5,000 pounds of Mosaic. Off that one sip. It was really good.
Gregg: We ended up ordering a bunch of Mosaic just based on its reputation. And he built the beer around the hop.
With Mosaic secured as the focal point of this new project, Dan looked for the right way to balance it with a malt bill that could accentuate the hop's flavor profile. Once that was dialed in, the results spoke for themselves.
Dan: I thought honey malt might give it a sweet but light malt backbone, so the recipe ended up being quite simple. Literally just 2-row, honey malt, and Mosaic hops.
Sean: He added the honey malt to it. It still had, and has, a lot of bitterness, but the honey malt and balance that Dan struck was really unique for the time.
Dan: I always likened it, even from the first batch, to a kind of guava-mango juice. We were always wowed from the first batch. We knew it was a winner from the go.
Gregg: To be honest, I knew that we had a good beer when Dan made it. But the label needed to be cohesive or it was going to fall flat.
Gregg and artist Michael Axt began to formulate the label and name for the new beer. With a surefire recipe, Gregg felt pressure to find an idea that could match a new and exciting product.
Gregg: I was worried we put all this effort into making a great beer and bad marketing was going to kill it.
Michael Axt (Graphic Artist): It was originally going to be called Mosaic Mike, which is why his chest logo is the way it is. I put together a first draft with Mike and some dogs and ran it by Gregg.
He basically called and said "I'm not liking it, it's kind of boring. It looks good but it's not catchy enough. Here's what I want to do instead."
Gregg: I dug deep, and I don't have a full explanation, but Mike went from the sky to outer space. The name emerged, I don't know I guess I thought of a weed theme or something, and boom there it was (Space Cake is a colloquialism for baked goods that have marijuana in them). The image evolved from that inspiration.
Sean: I remember Gregg's thoughts behind cupcakes shooting laser beams as an inspiration point.
Michael: He launched into this explanation: "I want it in space. He's fighting cakes that are spaceships and he's got a dog."
Gregg: I just called Michael up and described it to him and he said "OK, I guess I can do that."
Michael: I was like "What?" I'm pretty sure I asked him if he was going to supply me with a joint to smoke to create this, and he gave he a "yes, no, maybe" answer. Then I recapped: "You want him flying through space, chased by cupcake fighter ships, with a dog."
Sean: I remember Gregg telling us what was going to be on it and saying, "What the fuck is that" then seeing it and saying "Wow, that's exactly how he described it."
Michael: I liked it, obviously Gregg wanted something more eye catching, and he was right.
Gregg: It was much more of a powerful connection of the liquid with the imagery. The liquid deserved better marketing.
One hold over from a previous IPA, Miracle, would be the featured character, Miracle Mike. Miracle Mike was based on a real person, Mike Pettengill, a member of Clown Shoes' local sales team. The decision to put Mike on a Clown Shoes label caught him a little off guard.
Mike Pettengill (Sales and Events): I think I walked into the office one day to everyone looking at each other smiling and laughing then looking at me. Then I was like…what's up.
Gregg: He's a really funny guy, and was out selling Clown Shoes, and I thought he would sell more if his face was on the label. I was surprised he let me do it. I was going to ask, then he would say no, and that would be that.
Michael: That was the first employee connection to Clown Shoes that I put on there.
Mike Pettengill: I found it to be hilarious. It also helped with sales being the guy on the label, that just made my job that much easier.
In the Spring of 2014, Space Cake Double IPA was released. Interest for the beer exploded in a way that the team hadn't anticipated.
Sean: We had a launch party at Tommy Doyle's in Cambridge, Kendall Square. It was awesome, wall-to-wall with people, serving pitcher after pitcher, people were impressed.
Dan: Space Cake was a next step, it fairly quickly grew into being our top seller.
Sean: People loved it, and it was out of stock all the time. For the first year it was really hard to keep it in stock anywhere. When the bombers went in, it would always a sell out and then a long wait before people could re-order it.
Dan: At first Gregg said he just wanted to keep it limited to 50 barrels a month, a limited kind of thing to keep demand high, but pretty soon he was asking for 200 barrels a month, which presented a whole new problem because then we didn't even have enough Mosaic.
So, we ended up adjusting the recipe early on to how it sits today, which is that the Mosaic is supplemented with some Citra, and that aids in pushing forward those juicy, fruity flavors.
Five years later, Space Cake is firmly entrenched as the top selling beer across markets for Clown Shoes. The significance for the beer isn't lost on the Clown Shoes' team, who look at the Spring of 2014 and Space Cake's release as a big moment in the evolution of Clown Shoes to where it is today.
Dan: It is kind of a snapshot of where brewing formulation was at that time. Given today, if you made a Mosaic IPA it probably wouldn't be 9%. And it would probably have a different balance, leaning into Hazy a bit more.
Gregg: It's surprised me that it's had so much life and longevity. At this point I'm kind of used to it and realize there's some untapped opportunity for it.
Dan: We've been lucky that we've had beers we've been able to run with for a while. Even though we are always experimenting and trying out new things it's nice that we have a beer in Space Cake that people can go back to and enjoy.
Gregg: It's been an anchor. We might have drifted without it.
Sean: We were known before Space Cake for barrel-aged beers, stouts, darker beers, and pushing the limits there. It wasn't until this one came out that people started looking at us as an IPA producing company. We had a few before it, but nothing mind-bending. This one set the tone for what we do now, where IPAs have taken the front seat.
Gregg: Sometimes in the early days we just knew that we had something, and we haven't always had that. With Clementine, Hoppy Feet, Undead Party Crasher, I think we all felt great about. It just was nice having the whole team feel like "Alright, this is something we can get behind."
Find out more about Space Cake here, and use our Beer Locator to find it near you.