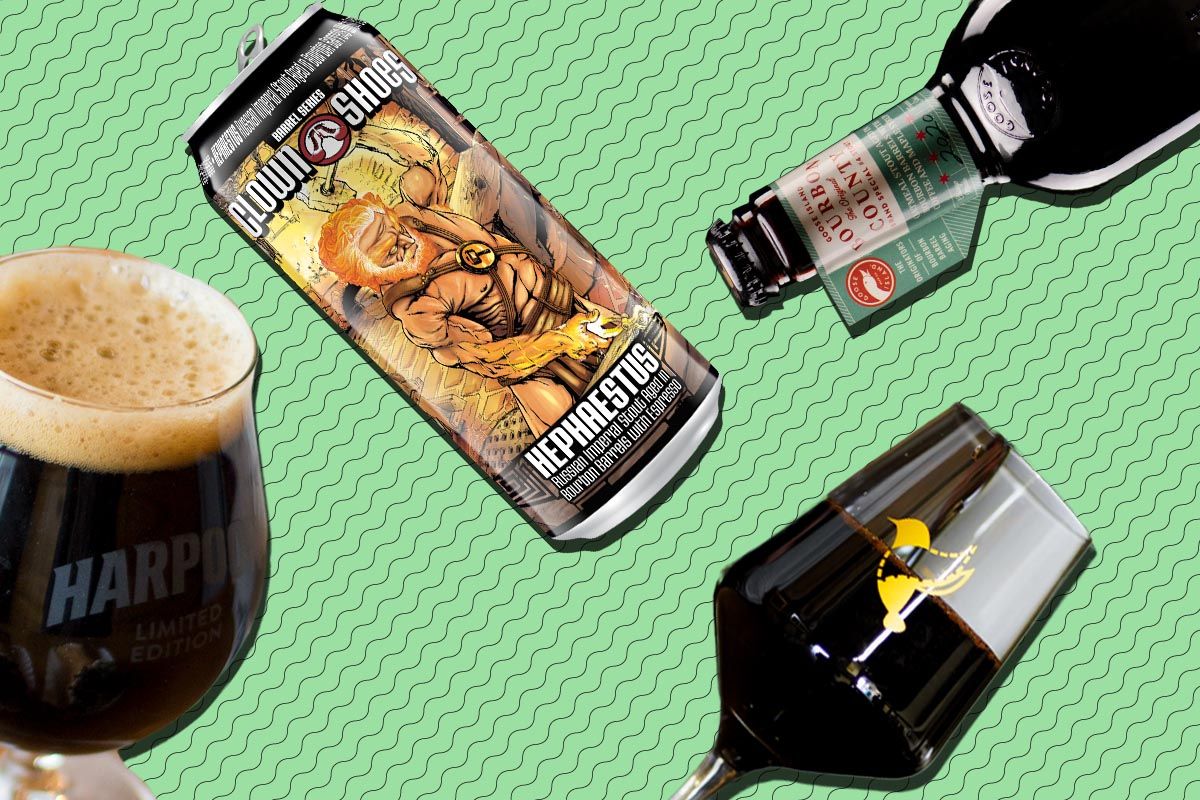 Add Dessert Beers to America's Pandemic Diet List
September 16, 2020
In August, Mike Simpson went home to Vermont for the first time since the start of the pandemic. His primary motivation wasn't family bonding but the release of a rare, barrel-aged beer, Imperial Hodad from Fiddlehead Brewing. The porter, matured in bourbon casks with vanilla beans, cacao, and toasted coconut, has a 9.5% alcohol by volume (ABV) rating and the flavor of a boozy German chocolate cake. "I've been enjoying much less beer lately. So when I crack something open, it has to be high-quality and high in alcohol," he says.
The Chicago-based craft beer connoisseur is not alone in his "go big and stay home" mentality. Americans have been consuming more junk food during the course of the pandemic. Just as sales of frozen waffles and Oreos are on the rise, so are beers infused with foods that could euphemistically be called "comfort."
Among craft beer consumers, the top consideration is invariably flavor. According to a 2019 Nielsen survey, 95% of craft beer drinkers prioritize taste over such considerations as ingredient lists, freshness, and provenance. This favors high-flavor, over-the-top styles such as heavily hopped IPAs and, more recently, so-called "pastry stouts": Some of the most powerfully flavored ales available are brewed with dessert-like additives, from cannolis to candied apples.
Although the latter subcategory isn't officially recognized by the Brewers Association, the trade group notes that sales in the American stout category rose 8% over the last 52 weeks, vs. the same period a year earlier. Sales of tamer counterparts—export stouts and dry stouts such as Guinness—grew barely 2% during that time.
Besides being rich in flavor, pastry stouts invariably have a high alcohol content—at least 8%—a further selling point in craft beer circles. (Yeast converts sugar into alcohol during fermentation, a process that goes into overdrive when sweet ingredients are thrown in.) Two-thirds of craft beer consumers rank ABV as 'very important' when purchasing beer.
"That number went up sharply over the past year," notes Bart Watson, chief economist for the Brewers Association. "People are moving to extremes." Many are exclusively released online to appeal to collectors and traders, an element that makes them well suited to pandemic consumption.
Shaun Burns, owner and head brewer at Phase Three Brewing in Lake Zurich, Ill., has seen sales increase during the Covid-19 pandemic. His latest release, Curvature B6, went on sale online on May 20. The 12.5% imperial stout, brewed with pecans, caramel, and chocolate, sold out within seconds. Before the pandemic, it might have taken hours.
"We sell all of our pastry stouts really quickly," says Burns. "There's been no slowdown."
The popularity of these beers in the Chicago area isn't surprising. This region is the birthplace of adjunct-laden (any ingredients not traditionally a part of the brewing process) dark beers since Goose Island became popular with its Bourbon County Stout variants nearly two decades ago. (That stout clocks in at around 600 calories per 16.9 ounces; dessert stouts are presumed to have an even higher count, but producers don't like to disclose the figures.) Since 2003, Chicago has hosted the Festival of Wood and Barrel Aged Beer, categorys largest annual showcase in the world.
The proliferation of these high-octane brews on national craft delivery platforms proves their broader appeal. "More brewers are making them, and we actually just added 'Pastry Stout' and 'Imperial Pastry Stout' style categories because they've become so prominent," says Kathryn Preissinger, a spokesperson for Tavour, the country's largest online craft beer retailer. "While we are heavily into IPAs, stouts are increasing, and pastry stouts are about 15% of sales, currently."
Even in cities such as Boston—historically linked to the most traditional beer styles—high-ABV stouts are seeing unprecedented growth. Earlier this year, Clown Shoes Beer released Hephaestus, a dark beer aged with espresso and flaked, sugary oats. (Think: oatmeal raisin cookies.) "Barrel-aged releases have driven our total stout sales up over 20%, year-to-date," says Al Marzi, chief brewing officer at Harpoon, parent company of the Clown Shoes.
Earlier this year, Harpoon collaborated with a neighboring dessert shop to concoct the eponymous Mike's Pastry Cannoli Stout. Brewed with actual pastries from the local landmark, it was an instant hit.
"We typically do a different specialty beer each month," Marzi explains. "Volume of production is sometimes 30 barrels. For this one, we did 240 barrels, and it was probably our fastest-selling release ever."